YFMTS (Your Favorite Martian: The Series) takes us behind the scenes of Your Favorite Martian, the animated band in the cartoon music video series created by Ray William Johnson of =3 fame.Animonster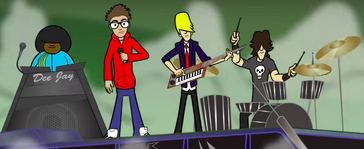 Your Favorite Martian: The Series (or YFMTS) was an animated web series hosted on the Animonster YouTube channel. It follows the members of the band as they get into all kinds of wacky antics.
The series ran for 11 episodes over the course of 5 months before going on hiatus. Unfortunately, the second season was cancelled when YFM retired.
Episodes
Cast
Main Characters
Supporting Characters
Production
The animation in YFMTS was done by Cosmic Toast Studios, who were also animating the music videos at the same time.
Despite the show being marketed as "Created by Ray William Johnson", Ray doesn't have any credits to his name in the show apart from the voice of Puff. The reasoning for this is unknown.
Trivia
The only time Axel was heard talking was in YFMTS.
In the series, Benatar was voiced by Brian Ford, however in their songs, he was voiced by Jesse Cale.
The series was labelled L D V S by YouTube for containing explicit content.